---
Owners Jeff and Walt Emmott have been with the company since 1973 and 1975, respectively. With a combined 81 years of experience with Patina Metals, they have designed and crafted much of Houston's exquisite custom ironwork. Jeff started his career in custom fabrication as an installer, and within a few years he and his brother Walt, an apprentice fabricator, purchased the company from the original owners. Jeff and Walt attribute Patina's longevity to their passion for ironwork-
 It is only through a burning desire to design and handcraft the finest custom ironwork available that we have stood the test of time. Our customers recognize excellence in craftsmanship and know that our master craftsmen can deliver the quality and elegance in ironwork that can truly transform their dream homes.
Luis Towns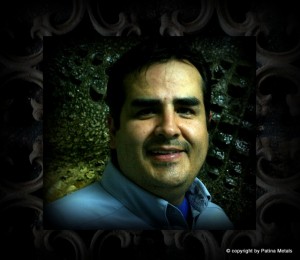 Vice President of Operations, Luis Towns is both a Mechanical and Structural Engineer with a specialty in Auto Cad and is an expert in the manufacture and design of Spiral Staircases. He melds the technical and the artistic into some of Houston's truly inspiring ornamental works. He began his career at Patina Metals in 2003 and now 13 years later is in charge of operations for the company. He has over 25 years experience as a fabricator with a background in designing fitness equipment for Fitness International.
Being both a mechanical and structural engineer have allowed me to bring a lot of value to our general contractors, builders, and architects. Helping to design and meld both structural and ornamental metal with other building materials like wood, glass, and other elements on a project brings me a lot of satisfaction. We do our best to deliver custom products within budget and on schedule. Our passion for quality and excellence show through in every job.
Blake Emmott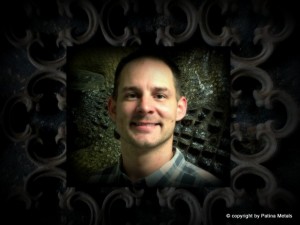 Field Installation Superintendent, Blake Emmott, has been around custom iron fabrication his entire life. After several summer internships with Patina Metals while attending college, he is excited to continue the proud tradition established by his father and uncle, Walt Sr. and Jeff Emmott.
I have learned the meaning of excellence and going above and beyond for the client at Patina, something that my dad and uncle have always instilled in me for as long as I can remember.
Alex Towns

Draftsman,  Alex Townes,  joined Patina Metals, following in his father's footsteps, Luis Towns, VP of operations. He grew up studying computer programming where he developed a video game as well as did website development, and now he uses Auto Cad to do shop drawings for our production.
The biggest wow factor for me in working here is creating a drawing out of what a client has imagined, and then seeing it transformed from lines on a computer that I have drawn, into a finished custom product that exceeds my expectations.                                                  That is just really cool to me!
Juan Zavala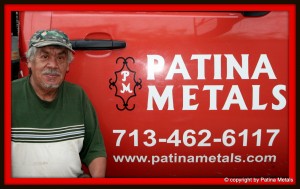 Shop operations manager, Juan Zavala, began his career with Patina metals nearly 26 years ago where he started as an assistant installer on the trucks. Prior to joining Patina Metals, he spent ten years in the oil and gas pipeline manufacturing field as a fabricator. Over the years he has had various jobs and now he is in charge of the production shop.
We have a lot of return clients because Patina does excellent work. The owners have always treated me well, and I enjoy working here.
Phillip Beasley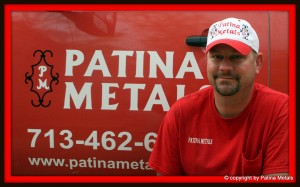 After eight years at Patina Metals as our G.C./Builder Relationship Manager, he says that Patina Metals is an "awesome place to work."
We offer good quality work in a timely manner and that's why our builders and general contractors use us for their structural metal needs. I keep good relationships with all of my clients because I am constantly in front of them so that they can get the rest of their work finished in a timely manner. If your structural metal is delayed, then everyone is delayed, from the framers, etc. So, I am very careful to be ready with the structural beams or posts or any other metal structural component before they need it based on a constant line of communication. We deliver ahead of time because I know my job, and we exceed expectations.
Telesforo Sanchez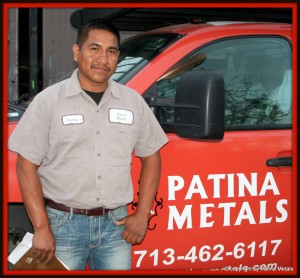 Telesforo, installation supervisor, began his career as a part time helper while attending high school in 1995. He started full time at Patina Metals in 1997 after graduating from high school, and now,  in the role of Field Installation Supervisor, he takes great pride in installing interior hand rails.
I love what I do! I love when people see my finished work and they are happy with it. I live out in Brenham, so I drive a long way to work and back every day, so you know I love what I do!
Wilson Munoz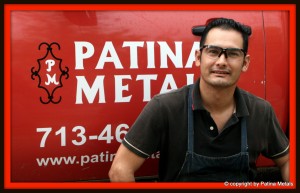 Wilson Munoz, our Quality Control Supervisor, comes with 7 years of experience in quality control and assurance from the world of make ready vehicles at dealerships. Celebrating 7 years at Patina Metals, he believes that in order to maintain great quality, you must set high expectations and then have processes and procedures in place to help you inspect the finished products so that even though these are all custom pieces for the most part, the quality must be excellent and consistent.
Quality is incredibly important. Efficiency is important, but the quality must be there.
Jose Torres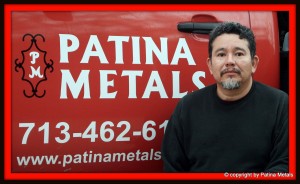 As an installation Supervisor for 7 years, Jose greatly enjoys his work. He comes over to Patina Metals with over 10 years of experience at another custom ornamental iron company, and he is glad to be on the Patina Metals team.
Anna Garza & Martha Hernandez
Anna Garza
Anna joined Patina Metals in 2012 as a purchasing agent. Currently, in her role as the Office Manager, she manages account payable and receivables, heads up human resources, and supervises the industrial management and bookkeeping functions.
I am very happy to be a part of Patina's team, and although I am new to the ornamental iron industry, I have learned a lot in a short time and am very impressed with the quality and beauty of Patina's creations.
Martha Hernandez
Martha is a great addition to our team as the purchasing and front office receptionist.
As the client account specialist, I am new to the metal fabricating industry. I really enjoy being a part of the Patina Team and I love to see all of the beautiful metal creations made by Patina.